5 Reasons Why We Think Visual Matrix PMS Should Be The #1 Choice of Your Hotel In Canada
With over 50 years of combined experience in the payments industry, National Payments has closely worked with numerous hotels using a wide variety of PMS systems. One PMS that has proved to be easy to use, and provides a fully integrated EMV Chip & Pin solution in the hospitality industry, in our experience, is the Visual Matrix.
National Payments recommendation is based on our direct hands-on experience with EMV Chip & Pin integrations and the many built-in various in-depth features and tools which make the Visual Matrix PMS platform stand out from the rest for ease of use and reliability.
In addition, Visual Matrix is our choice because of the outstanding 24/7 support that they provide their hoteliers.
Also, with the launch of Visual Matrix cloud platform for the hotel industry, it's an exciting time for us to talk about how the Visual Matrix software, along with their exceptional support team, can make a huge difference in the day-to-day operations of any hotel.
Without further ado, let's jump to the 5 reasons Why We Think Visual Matrix PMS Should Be The #1 Choice of Your Hotel In Canada.
1. Visual Matrix Is Not Just a Property Management System
There are various features a PMS should have for hotels to work flawlessly. But there are many additional features that make Visual Matrix an absolute powerhouse of a solution that hotels can use to increase their business.
With the revenue analysis platform, which is built directly into the PMS, decision-makers can know exactly how to maximize the profits for each of their hotel properties.
With the Revenue Management Live system that comes with the Visual Matrix all-in-one solution, your hotel can automatically track room rates and status updates not once or twice a day, but all day, live. This means you can now monitor, adjust, and set rates 24/7 based on the real-time status of occupancy, cancellations and more.
Additional features of the Revenue Management Live system include:
Auto-tiering of room rates based on a simple formula set by your hotel
Manual override of auto-tiering features when required, such as during special holidays
Closing out discount coupons automatically during high occupancy days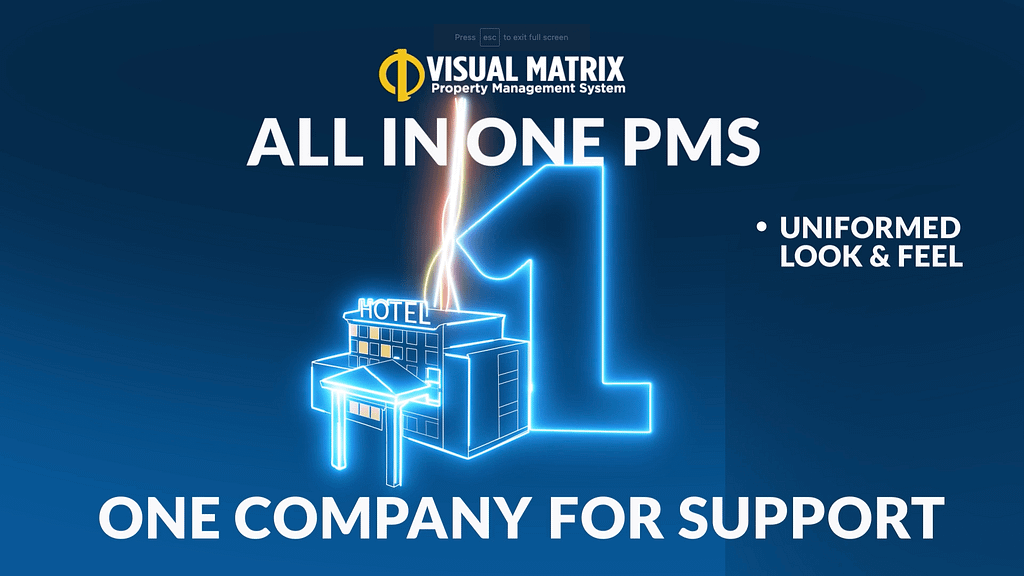 2. Streamline Operations and Support with the Visual Matrix All-In-One Solution
Because Visual Matrix PMS provides many additional features directly built into the system, all operations of the hotel are streamlined.
If there is an issue, confusion, or an out-of-the-ordinary situation, there is only one company to call for everything. The customer support team at Visual Matrix is based in the United States and is easy to access without call-center delays, and is uniform in its approach which saves a lot of stress, hassle, and time for your team.
Uniformity also ensures your hotel can have better control over costs and can maximize profits on every dollar earned in revenue.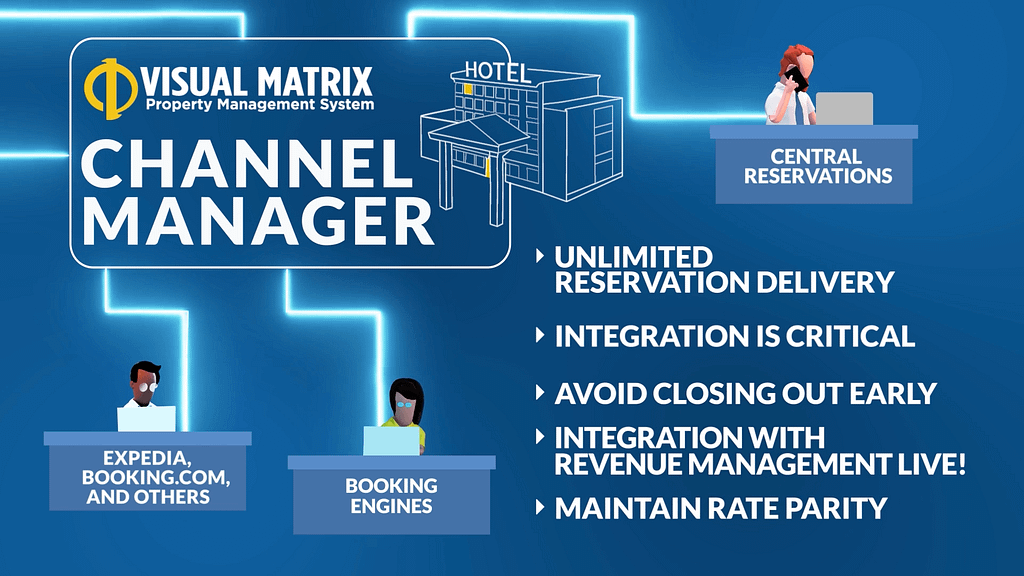 3. Integrated Channel Management Solution
Today, every hotel must to rely on several sales channels to ensure maximum occupancy every day of the year. Usually, hotels must spend a fortune on high reservation delivery fees charged by independent channel managers.
But when you sign up with Visual Matrix, your property automatically gets a fully integrated channel manager as a part of your PMS. This means no extra communication or reliability on various channel managers outside of the PMS.
Here are some benefits of the integrated channel management solution by Visual Matrix:
One fee for unlimited reservation delivery, as compared to a high charge per reservation
One standard fee means hotel managers have better control over their costs and profits
Due to integration with the PMS, the channel manager helps hotels avoid closing out early or over-selling on any of the third-party platforms like Expedia, Booking.com etc.
Since the Chanel Management Solution is fully integrated with the PMS, it means Visual Matrix's built-in Revenue Management Live system can automatically update rates on third party channels based on set criteria
Elimination of costly chargebacks due to fraud for card-present transactions utilizing the fully integrated EMV Chip & Pin solution.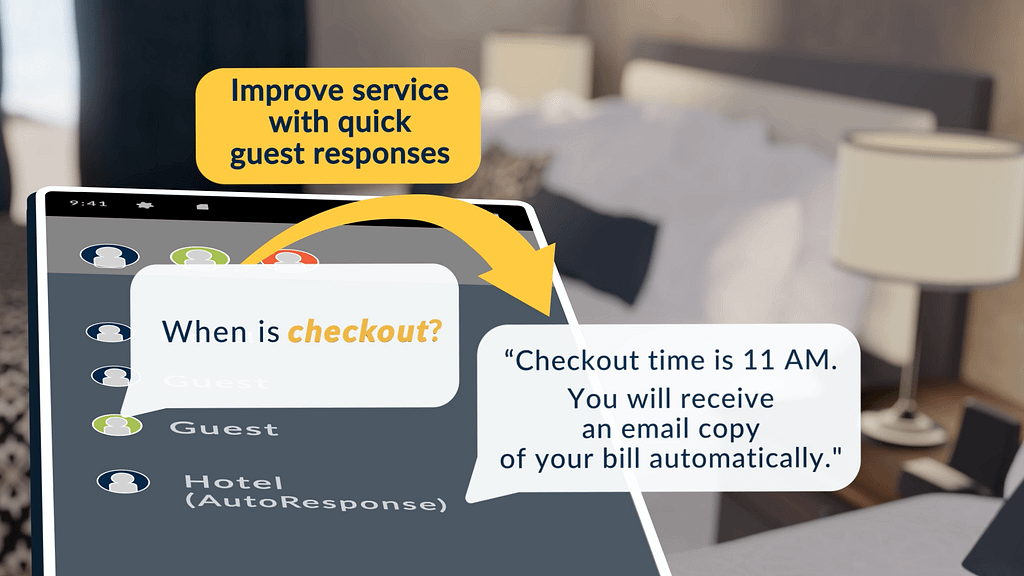 4. Mobile App & Guest Texting
With the mobile app and guest texting feature, Visual Matrix takes the hotel management to an exciting new level, which is tough to beat by any of the competitors.
With the Visual Matrix mobile app, hotel workers can take care of most of the tasks from anywhere, all with a simple tap on their mobile screen. Including:
Tracking hotel booking status
Adjusting room rates based on availability
Tracking revenue and operations performance
Retrieving and fulfilling text requests made by guests
Auto-responding to text messages from guests based on keyword triggers
Starting a working or housekeeping order
Locating housekeepers and tracking their service time in each room to increase efficiency
Sending automated texts to guests before their arrival, on the check-in and check-outs to minimize time spent at the front desk
On the other hand, the guest texting feature is loved by the hotel guests because it saves them trips to the front desks. Guest can simply text the hotel with any special requests to be efficiently catered by the hotel staff.
5. VM Cloud vs. Desktop
If you are not already sold, let us tell you that Visual Matrix cloud solution gives you all the features of the VM desktop and mobile app, in the cloud. The cloud version also has a lot more features built-in as compared to the desktop version with faster and better statistics, data processing, and live updates.
We will share more information and shed light on the exciting upcoming features of the Visual Matrix cloud version in future articles.